En nat, en morgen
En nat, en morgen
En poetisk lydinstallation
Bogstaver er udstanset som huller i en stor bemalet plast-cylinder. Denne cylinder kan man gå ind i, og læse et digt, som lys, ud gennem hullerne.
Samtidig kan digtet, også inde i cylinderen, høres i hovedtelefoner. 18 forskellige mennesker, af forskellig type, etnicitet, alder, profession m.m. læser digtet op, på hver sin personlige måde. Det er blevet til 18 meget individuelle "fortolkninger" af digtet.
digt: Inge Pedersen
installation: Anne-Marie Pedersen
lyd: Jens Holm
oplæsere: Saffi, Helgi, Ursula, Mette, Isabella, Annette, Ilse, Max, Jens, Jameela, Genevieve, Rie, Inge, Lars, Hanne, Jeppe, Lone, Hartvig, Ernestine
En nat, en morgen
EN NAT, EN MORGEN
A poetic sound installation work.
By Danish author Inge Pedersen and Anne-Marie Pedersen
The letters of the poem, En nat, en morgen, are punctured as holes in a big cylinder.
The audience experience the work from inside the cylinder, where the letters of the poem shine strongly throgh the holes, that form them.
The poem can be heard in head phones, read by 18 individuals, – a group of people with large variaty, when it comes to age, education, etnicity etc.
This has turned out to be 18 very individual readings.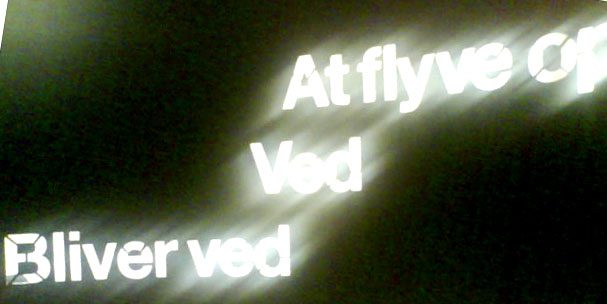 [soundcloud id='168253079′]